Profile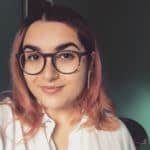 Priya Silverstein
Everyone has such great questions! Keem em coming :)
My CV
Education

I went to school in London: Grafton Primary School, Parliament Hill School for Girls, and then Camden School for Girls for sixth form. I then moved to Birmingham to do my undergraduate and masters degrees at Aston University. After this, I moved to Lancashire to do my PhD at Lancaster University.

Qualifications

I have GCSEs in English, Maths, Triple Science, Drama, Food Technology, RE, and ICT. I have A Levels in Biology, Chemistry, and Psychology. I have a BSc in Psychology, an MSc in Cognitive Neuroscience, and I'm almost done with my PhD in Psychology.

Work History

I started off as a 'Saturday girl' at Toni & Guy hairdressing. I got paid £2/hour to make coffees and sweep up hair and tear up bits of foil. At university I worked as a door-to-door charity fundraiser for Barnardos. Then I had a few part time and full time research assistant jobs, and was a lab manager.

Current Job

I'm currently a postdoctoral researcher at the University of Surrey. This means I do research full time in a team consisting of me, my supervisor, two collaborators, and research assistants.

Employer
About Me:

I'm a developmental psychologist who is passionate about making science more open and diverse.

Read more

I live in London with my mother, but my wife lives in Preston and I go back up to see her every weekend. I love cooking and eating; my favourite thing to make is banana bread. I love watching all my guilty-pleasure TV shows, including Love Island. My pronouns are she/her. Here's a picture of me and my wife on our wedding day with our two mystery guests – we found them on the day to be our witnesses!

My Work:

I study how babies and children learn different things. At the moment, I study how playing with Lego might help kids become better at maths!

Read more

At the moment, I'm studying how children's Lego construction ability, spatial skills, and maths ability are all related. We know that kids that are better at building Lego are also better at maths, but we don't know why! It could be because of different spatial skills that might make you better at both, for example mental rotation (being able to rotate images in your head) or visuospatial working memory (being able to remember sequences of visual information). So, we're measuring lots of different things that we think might be related to figure out what it is. Then, we're developing an intervention to see whether getting kids to practice building lots of Lego will make them better at maths!

My Typical Day:

Usually I have to get up pretty early (6am) because it takes me around 2hrs to get to the university campus where I work from where I live! I spend the day reading, having meetings, and writing, or I'll be in a school running our experiment with children!

Read more

6am: Wake up and get ready

7am: Travel to a school

9am: Arrive at the school, do a classroom maths test with the children

12pm: Eat my packed lunch

1pm: Do some spatial games on the computer with the children

2.30pm: Do some Lego construction  games with the children

3.30pm: Input data from the day into our laptops

5pm: Go home!

7pm: Eat dinner

8pm: Make lunch for the next day

9pm: Watch TV

10pm: Go to bed

What I'd do with the prize money:

I'd arrange an outdoor catered event in the summer where families could come and play spatial, maths, and Lego games.

Read more

In the summer holidays, I'll arrange an outdoor stall in Guildford town centre where families can play different games based on the tasks we use in our research. We'd talk to them about the research we do and how it relates to the games. Some games could include:

Building different things out of Lego
Finding hidden shapes in pictures
Remembering different sequences on a xylophone
Playing the spatial computer games we have in our experiments
Number line game where the closest answer wins a prize
Mathletes quiz

There would be snacks and drinks and it would be a jolly family day out!
My Interview

How would you describe yourself in 3 words?

Curious, funny, sincere.

What or who inspired you to follow your career?

The book 'Bad Science' made it my mission to do good science.

What was your favourite subject at school?

Maths.

What did you want to be after you left school?

Ballerina, singer, actress, writer, therapist, and then scientist.

Were you ever in trouble at school?

Only twice: once for sticking my tongue out and once for refusing to draw what I thought God looked like because I didn't believe in God.

If you weren't doing this job, what would you choose instead?

Data scientist.

Who is your favourite singer or band?

Lana Del Ray.

What's your favourite food?

Fried chicken.

What is the most fun thing you've done?

Glastonbury.

If you had 3 wishes for yourself what would they be? - be honest!

Health, happiness, and peace.

Tell us a joke.

Boris Johnson.
My profile link:
https://ias.im/u.249443
---
---
---