Profile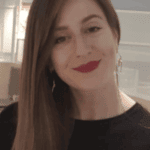 Beatrice Hayes
Hope everyone is having a good day :) I am working from home today!
My CV
Education

I went to St. Francis Catholic Primary School until I was 11. Then I went to St. John Payne Catholic Comprehensive School until I was 16. I then went to St. John Payne Sixth Form until I was 18. Then I went to Keele University for my undergraduate degree, I finished there when I was 21. I then stayed for another year, to become a Primary School Teacher, until I was 22. Then I started at Royal Holloway, University of London, when I was 25 and am currently still here!

Qualifications

When I was 16, I finished my GCSEs, (I can't remember what my grades were!). When I was 18, I finished my A-Levels. I got ABBC in English Literature, Psychology, P.E. and General Studies. I also completed an Extended Writing Project. I then did a Bachelor of Science Degree, it was a little bit different to normal degrees as I decided to study two subjects: Educational Studies and Psychology. I got a First Class Honors and I received an award for my dissertation (a REALLY big research project you do at the end of your degree). I then did a PGCE (this stands for a Post-Graduation Certificate of Education) which meant I could be a Primary School Teacher. Now I am doing a PhD, which is the highest qualification you can get, in Psychology.

Work History

When I was 15, I got my first job as a Dance Teacher! I taught ballet and tap to 2-6 year-olds and I LOVED it! I also started working in a tea rooms when I was 17. I had to make tea, coffee and serve up cake – I hated it! When I was 19 I worked in London for a summer. I worked for different companies to help them advertise and put on events. When I was 20, I worked in Spain for a summer teaching English to Spanish children. When I was 21, I worked in Yorkshire for a summer teaching English to children from all over the world! When I was 22 I started working as a Primary School Teacher, I did that until I was 25. My next job will be as a Doctor of Psychology working in universities! Exciting!

Current Job

I don't technically have a job as I am busy working on my PhD! I do a little bit of extra stuff to earn some pennies, though; I help out with other people's research projects and get paid for that.

Employer

Royal Holloway, University of London.
About Me:

I am a girly scientist who loves the colour pink, cats, dancing and going on adventures!

Read more

I live in Surrey with my three housemates; one of my housemates has two guinea pigs called Bella and Sissy (inspired by Harry Potter) and they live downstairs. My boyfriend lives in London, so I spend a lot of time there at the weekends. I really love London because there is so much to do and explore. My favourite colour is pink (I also like rose gold) so lots of the things I own are those colours. Everyone says I am really easy to buy presents for because I love pink so much! I also REALLY love cats. My cat lives with my parents in my family home, she is ginger and white and she is called Pixie. She is the fattest cat ever! She is so huge and my parents keep trying to put her on diets but she hunts so much in the night time they never work. She is very soft and cuddly, when she lies on my lap she wraps her arms around my tummy and rests her head on me so she really cuddles me – it's so cute! I also love dancing and have been a dancer since I was 2. I have done ballet, tap, modern, street jazz, latin and ballroom since I was little. I like to try new dance styles too. I have done lots of competitions and keep all my trophies at my family home. I also love going on adventures! I like travelling and have been to lots of different countries. I went to the Caribbean for 6 weeks once and it was amazing. My boyfriend and I like travelling too, we went to Georgia last year (the country, not the state in America!) and it was so cool because not many people spoke English, so we felt like true explorers!

Fun facts about me: I can do a bridge (backward bend) and walk in it like a crab; when I was a baby I broke into the water buffalo cage at Colchester Zoo and chilled with them for a bit; I can speak a little bit of French; I am a direct descendent of King Henry the 8th.

My Work:

My research is interested in children, teens and the internet. Particularly, I like finding out about how children use social media sites. I like learning about how they think about these sites and how using them makes you feel.

Read more

I am doing a PhD in Psychology. A PhD is the top qualification you can achieve from going to university. When you are doing a PhD, you choose a topic that you are really interested in and you do lots of research about it. The idea is that, at the end of your PhD, you will write a book with all your research in and (hopefully) it will be really interesting!

So, what's my research about? I am interested in how children use the internet. I am especially interested in how children use social media sites (like Facebook, Instagram, SnapChat, Twitter, YouTube…). I like finding out about what children think about these sites, what they do on them and how they make them feel. There are lots of really great things about using social media, but there are some risky things too. So, I like to know about both sides and help children to use them safely and to do cool stuff on them too!

How do I do my research? To find out more about these things, I have been working with children all over England. I have used online questionnaires where children have answered questions about how they use social media. I have also interviewed children (and parents and teachers too). I especially like interviewing because I love a chat!

What do I like the most about my research? I love meeting new people and learning about their lives. I find my research really interesting, it's always great to learn new things (even when you're a grown-up!).

What do I like the least about my research? Sometimes it can be very tiring. I have had to travel all over the country to do my research, which is really fun, but sometimes I just want to lie in bed and be lazy!

My Typical Day:

I get up early and go to the gym (around 6:00am – eek!) then I head into my office. I like chatting to my friends before I start my work. I spend my mornings coding (writing letters, words and numbers which tell your computer how to do something – this helps me find out info from my research!). Then after lunch, I either visit schools and chat to the children, or I work on writing up my research (so other people can read it). In the evenings, I like to go for a walk with my boyfriend, have dinner, watch T.V. or read, and then go to bed!

Read more

I wake up early (around 6:00am) and go to the gym. I don't like getting up early, but if I wake up later I feel like I've lost part of the day! I like going to the gym in the mornings because it helps me wake up and it also make me feel fit, healthy and ready to accomplish anything! I come home, have my breakfast and go to my office. I am normally in the office by 8:30am. I like chatting to my friends who work in my office (there's quite a few of us), we always have really funny conversations! Then I spend my mornings doing coding. Coding is when you write letters, words and numbers which tell your computer how to do something. I use this to help me find out information about my research. Then I have lunch with my boyfriend and my friends (around 12:00pm). Following this, I work on some writing. When you're a scientist, you work hard to write up your research so other people can read about it. There's not much point in doing lots of hard work and then not show it to anyone, is there? It takes a long time to do this, though. So, I spend the rest of my day working on writing. If I am going to visit children, I will go and do this in the afternoon. I go to schools, meet the teachers and chat to children all afternoon (I much prefer these afternoons!). At the end of the day, I like to go for a walk with my boyfriend to stretch our legs and get some fresh air! Then we get some groceries and go home, make dinner and watching T.V. or read until we go to bed.

What I'd do with the prize money:

I would like to run a research project with a group of children as my main scientists! I would help you to come up with a cool idea and then run a study like a real scientist! When we finish our research, I will help you to write it up and then we will send it to be published. This means you will have a research paper published with your name on it!!

Read more

If I win I would like to run a research project with a group of you as my main scientists! So what would this mean? Well…

I would ask anyone who was interested to write a letter to me telling me why they should be a scientist!
Once I have picked a group of budding scientists, we will work together and come up with a cool research idea. It will be your idea! I will just help you.
When we have a cool research idea, I will help you to conduct your research (like a real scientist!).
When we have finished our research, we will write it into a special research paper.
Then we will send it to be published!

I would like us to publish our research in Frontiers for Young Minds (https://kids.frontiersin.org/). This is a really cool website where research by children is published. It would be SO cool for you to have your name on a published paper. This is literally what scientists spend their whole career hoping to achieve – you will have already done it before you're a grown-up!!

Maybe you will get certificates and a treat at the end too… who knows…
My Interview

How would you describe yourself in 3 words?

Confident, chatty, loyal

What or who inspired you to follow your career?

My cat - nothing stopped her of dreaming to be a tiger

What was your favourite subject at school?

English

What did you want to be after you left school?

A teacher (I was for a little bit!)

Were you ever in trouble at school?

Yes...I always got told off for talking... :(

If you weren't doing this job, what would you choose instead?

A professional dancer!

Who is your favourite singer or band?

Ariana Grande and Taylor Swift. I couldn't possibly choose between them.

What's your favourite food?

This is such a hard question. I love food so, so, so much. I am addicted to chocolate... I also LOVE a roast dinner!

What is the most fun thing you've done?

Scuba diving in Barbados! I swam through an old pirate ship and was surrounded by fish that look like Nemo. It was amazing!

If you had 3 wishes for yourself what would they be? - be honest!

To have a healthy life; to become a Professor one day; to have a big house filled with loads of cats!

Tell us a joke.

What do you call a ghost's one true love? His ghoul-friend.
My profile link:
https://ias.im/u.247346
---
---
---