Students! Help us decide which scientists and engineers should take part in the next event, and you could win a voucher. All you need to do is take 2 minutes now to judge these 12 sentences.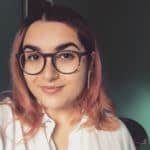 Thank you so much to the students for choosing me! What an amazing experience, made so by all the students, teachers, moderators, and all the rest of the I'm a Scientist team. The students asked so many excellent questions that inspired me and made me laugh.
Thank you to my postdoc supervisor Emily Farran for encouraging my participation in I'm a Scientist (she actually participated herself in a previous round), especially during a really busy time for our project. Thanks to the Leverhulme Trust for funding the exciting project that I got to talk about with the students.
I'd also like to shout out the amazing other scientists that were in my zone. It was great to meet like-minded scientists happy to take time out of their day to do a bit of science communication. It was really cool to hear about what you all do, and watch you answer really difficult questions. And in the quiet times, it was lovely to have a chat to each other about our research, family life, and even dancing.
I don't even know where to start with all the amazing questions that were asked! There were some great discussions that I was able to relate to my current research on Lego, spatial cognition and maths: how nature and nurture each contribute to child development, the pros and cons of different approaches to studying development, my path to becoming a scientist, etc. As well as these, I had fun discussing favourite our favourite couples on Love Island, how to make the best avocado toast, and what our favourite curries are.
This took place during a very strange time, as in the two weeks of I'm a Scientist we went from most students not knowing what COVID-19 was to on the last day having their schools closed to protect against its spread. This really hit home how important science communication is in these unclear and scary times. The students were asking such important questions about COVID-19, and although it was scary to have to answer, "we just don't know yet", this is an important thing to highlight about science – it's always in flux. The students were such troopers through this difficult time, and really cheered me up.
To anyone wondering whether to participate in I'm a Scientist – I can't encourage it enough! It was one of the most well-organised science communication initiatives I've been a part of. I got to talk about my research with engaged students who genuinely inspired me – some even came up with extensions to my research! After a hard day, it was refreshing to come home and answer questions like "why did you decide to become a scientist?", "who inspires you?", and "what is so interesting about your research?". Being forced to reflect on these important questions rekindled my passion for science in a time when my mind has been very distracted. Thanks again to the I'm a Scientist team and all the students!
Priya
Up for the challenge?
Want to answer some downright weird questions? Maybe even learn things from students?
Scientists! If you'd like the chance to win funding for your own public engagement work, apply for the next I'm an Scientist, Get me out of here: imascientist.org.uk/scientist-apply
It only takes 2 minutes and one sentence to apply!
---